Xero Shoes has just launched their hottest new model yet, the Amuri Z-Trek. Additionally, they have also made an improvement to the Cloud and Venture lacing system. Now you can get those sandals on your foot and get a perfect fit in about 10 seconds. Maybe less. And once you've done that one-time adjustment (grab both tabs and pull), you can slip them on-and-off in a second. With a new lacing system also comes new colorways for the Cloud and Venture models!

Xero Shoes Amuri Z-Trek – New Model
The Amuri Z-Trek is an all-around sport sandal – think Keen and Teva.
The Amuri Z-Trek is lightweight, super-flexible, and travel packable. Best of all, the Amuri Z-Trek is the first gender-specific model from Xero Shoes. They are not unisex like the Amuri Cloud and Amuri Venture. The women's Z-Trek is narrower and has a thinner webbing. For women with wider feet, you can get the men's model.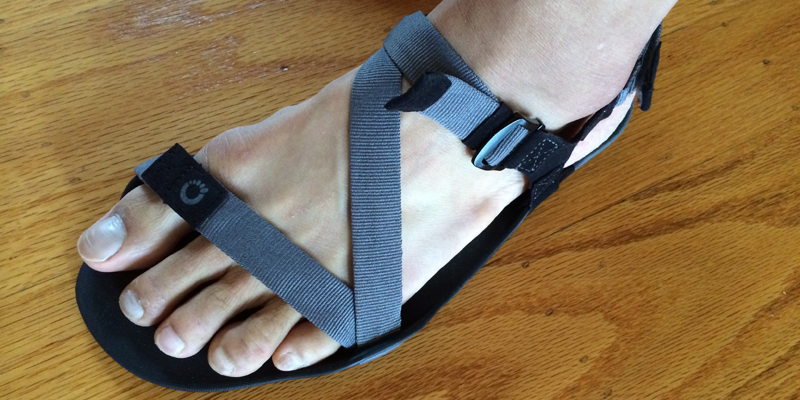 Both men's and women's Amuri Z-Trek comes in Coal Black with Charcoal webbing and Mocha Earth with Coffee Bean webbing. For women's only colorway, there is a Slate with Hunter Green webbing whereas the men's only colorway has a Slate with Patriot Blue webbing.

The Amuri Z-Trek features an adjustable heel strap and instep to handle any foot shape. Dual-chevron tread provides great grip wherever you go. With their 5,000 mile warranty, you'll never worry about where the Amuri Z-Trek takes you!
Sizing chart
These are great sandles. The sole feels protective and has great traction. The design is simple and looks to be very roboust. I'm looking forward to many years with these.

Comfortable for fast sprint & endurance

Took the sandals on long 15k trail run, performed well, good grip specially on downhill technical descends. Tried the sandals on a mile sprint, felt equally comfortable. Requires some tweeking for proper fitting. Particularly to get the mid sole not to be lose under the foot. A bit heavy weight wise. I suspect the grips might also fade after putting lots of miles. But till then I'll enjoy running in it.

Z-Trek - It's got you covered for everything!!

Absolutely fantastic sandal!!! I've worn these every day since buying them. They allow you to feel the ground brilliantly and also of course allow your feet to breathe. The strap system is simple and effective and holds your feet in well. Couldn't recommend highly enough, absolutely brilliant. Check em out yourself and feel the difference, feel the freedom, feel the world!

Great sandal. Have owned for a few weeks now. Very comfortable and the sole looks very tough and durable.

These running sandals are perfect! I just returned from my first run. While I was out there I didn't want to stop and come home. I could feel the air between my toes and the ground beneath my feet. I didn't have to worry about sweaty socks or tight shoes. If I wanted to, I could have jumped into ocean and gone for a swim. I adjusted the straps so that they felt just right (a little loose suits me best). I am so excited that one pair of sandals can take me anywhere I want to go! Thank you Xero Shoes!

Should have bought these first

I recently broke one of my Ventures which were a barefoot trial. Decided to move up to the Z-Trek and although I've only been out once I love them. The wider strap is so much more comfortable than the cord , and on that first run I didn't need to adjust them at all. Looking forward to run number 2 tomorrow.

Great trail running sandal

This would be a great casual sandal and also stands up to tough trail running and road running. The rubber is a bit stiff for the first run but then becomes flexible and comfortable. surprisingly grippy on trails and stable on the foot. The lacing works great but may take a few short runs to get adjusted. Highly recommended!

The pair weighed in at 435 gm. The Terra float is not much heavier. Bought for hiking so that I could do river crossings and wear around camp. Wanted a pair to be really lightweight for the pack. So I would not say super light weight, especially as other brands have more cushioning for around the same weight range. My heel feels like it is coming off one edge so the shape of my foot is not ideal. Pros? Will pack flat.

These are my second pair of Z-Trek's, after the first suffered a bit of heat stress and the strap holder broke. I'm not a runner, but I have done plenty of walking in these (all summer, 2 months travelling in Europe, etc). I think between the Z-Trek's and the Ipari Hana's I have all my footwear sorted. Sometimes walking on hard concrete all day makes feet a bit sore, but walking on cobbles and everything else is just great. Eyeing off the Prio's now.