Xero Shoes has just launched their hottest new model yet, the Amuri Z-Trek. Additionally, they have also made an improvement to the Cloud and Venture lacing system. Now you can get those sandals on your foot and get a perfect fit in about 10 seconds. Maybe less. And once you've done that one-time adjustment (grab both tabs and pull), you can slip them on-and-off in a second. With a new lacing system also comes new colorways for the Cloud and Venture models!

Xero Shoes Amuri Z-Trek – New Model
The Amuri Z-Trek is an all-around sport sandal – think Keen and Teva.
The Amuri Z-Trek is lightweight, super-flexible, and travel packable. Best of all, the Amuri Z-Trek is the first gender-specific model from Xero Shoes. They are not unisex like the Amuri Cloud and Amuri Venture. The women's Z-Trek is narrower and has a thinner webbing. For women with wider feet, you can get the men's model.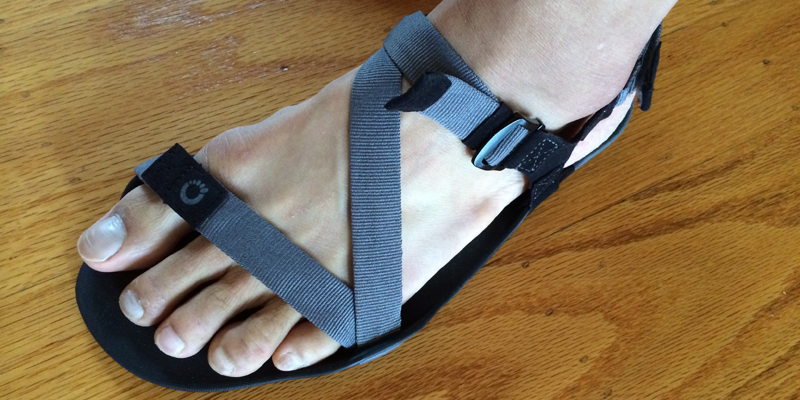 Both men's and women's Amuri Z-Trek comes in Coal Black with Charcoal webbing and Mocha Earth with Coffee Bean webbing. For women's only colorway, there is a Slate with Hunter Green webbing whereas the men's only colorway has a Slate with Patriot Blue webbing.

The Amuri Z-Trek features an adjustable heel strap and instep to handle any foot shape. Dual-chevron tread provides great grip wherever you go. With their 5,000 mile warranty, you'll never worry about where the Amuri Z-Trek takes you!
Sizing chart
Probably hard to fault on that front though. Recently wore them trekking in Nepal. Removed the end of my toe minutes after choosing them over boots. My bad. Working around those limitations, the performed beautifully. Although only wearing a 10 kg pack, I was impressed with their solidity on dynamic moves, was able to clamber at speed down big rocky trails. They do it pretty tough in skree, again, probably hard to fault them on that.
I'm a size 11 with slim ankles, had a lot of length left in the strapping when adjusted.
No show stopper issues (maybe my wife's reaction to them?), highly recommended.

Great design, room for improvement

I bought the Amuri Z-trek a month ago and am loving them.

I wear them for urban and trail walking, as well as running.

Before buying these, I generally used Vibram Five Fingers for running. I wanted try these for running for running in beach/water/muddy terrain as something that would be more comfortable and easier to clean.

I find the performance great. One of the main reasons for choosing these in particular is the lack of toe post as comfort is a primary concern.

It's taken me a while to find the optimal strap tightness. If the toe strap is too loose, it chafes the top of my toes. Too tight and the sides are pulled up and put too much pressure on my smallest toe. This is mainly an issue when running longer distances - with walking or shorter differences, the fit is not as important.

One other minor complaint is the length of the top strap at the top/side buckle. It is too long (for me at least) and dangles around or flicks my ankle. My workaround is too try to tuck it under the strap on the other side or curl it back on itself. This can impact comfort and also aesthetics.

Overall I'm really pleased with the product and wouldn't hesitate to re-buy if I manage to wear them through


I bought my Amuri Z-Trek to have a second set of footwear that I'd take on multi-day treks. The intention was to have a light open handle to use when not walking. In the week I've had them, naturally they haven't been used in earnest for a walk. However the Z-Trek have been employed universally as my main footwear. They're so light and comfortable. I look forward to uses them on a solid walk.

Feels like bare feet, only protected!

These shoes are fantastic - they really feel like running and walking with bare feet but with the protection of the rubber soles. They are incredibly comfortable - the webbing is soft and the suede-feel trims feel great and are very flexible.

The best thing about these shoes is the webbing system. You really can adjust it to fit your foot - bring your heel forward/back, tighten/loosen forefoot, tight/loose grip on ankle. Its the best system I've ever used on a sandal.

I got the Mens size as I have wider feet and this was a good choice. I also liked the blue colour!). The measurement templates are accurate, but if you are close to the lines I'd go a size up - mine were a close call and I could have gone a size up.

Shipping was fast!

I'm looking forward to wearing these for many Australian summers to come!

Everything a simple sandal should be...

The perfect start to summer.
I have transitioned to full barefoot running which has change the way I run and walk. My old sandals made by Source, which I have loved for years and had many adventures in, felt like wooden planks on my feet and caused my gait to regress.
These arrived promptly and are the perfect amount of flexibility and protection.
Draw back: I am a big sweater and these do make me sweat a fair bit. However the minimal nature of them does mean that I do not end up feeling clammy.
I couldn't recommend them more.

i love these sandals.

I've worn the diy huaraches with amuri tech for about a year now. I love them too, but there are times (such as water activities, or extreme boulder scrambling) when the the toe post becomes uncomfortable or they don't hold my feet well enough.

Also there are times when (shock! horror!) I like to wear socks with my sandals. And now I can!

The z-trek are the sandals I have been waiting for.

They feel incredible, and they tick all my boxes for light weight comfort.

Only one gripe - the faux-suede material at the ankle feels like it could wear quickly. I use the hell out of my footwear, and I'm a bit worried that could be the first to go.

Also, the faux-suede retainer loops on the main tightening strap were very inadequately stitched. One broke off in my hand when I tried to adjust its position. The other had stitching that had come loose and looked about to fall apart. I glued them both with polyurethane and they have stayed on so far, but I felt my faith in the durability of these sandals a bit shaken.

Outstanding comfort and versatility. Within first hours of receipt I had walked,run and performed a circuit training workout in them with no issues whatsoever. By the end of the day I had forgotten they were on my feet. I now can't wait to wear them each day.

My only gripe would be that despite following instructions regarding foot measurement and size determination they still turned out to be a bit in the big side. However this has caused me next to no issues so can't really register as a complaint. Just ensure that you measure accurately.