Xero Shoes has just launched their hottest new model yet, the Amuri Z-Trek. Additionally, they have also made an improvement to the Cloud and Venture lacing system. Now you can get those sandals on your foot and get a perfect fit in about 10 seconds. Maybe less. And once you've done that one-time adjustment (grab both tabs and pull), you can slip them on-and-off in a second. With a new lacing system also comes new colorways for the Cloud and Venture models!

Xero Shoes Amuri Z-Trek – New Model
The Amuri Z-Trek is an all-around sport sandal – think Keen and Teva.
The Amuri Z-Trek is lightweight, super-flexible, and travel packable. Best of all, the Amuri Z-Trek is the first gender-specific model from Xero Shoes. They are not unisex like the Amuri Cloud and Amuri Venture. The women's Z-Trek is narrower and has a thinner webbing. For women with wider feet, you can get the men's model.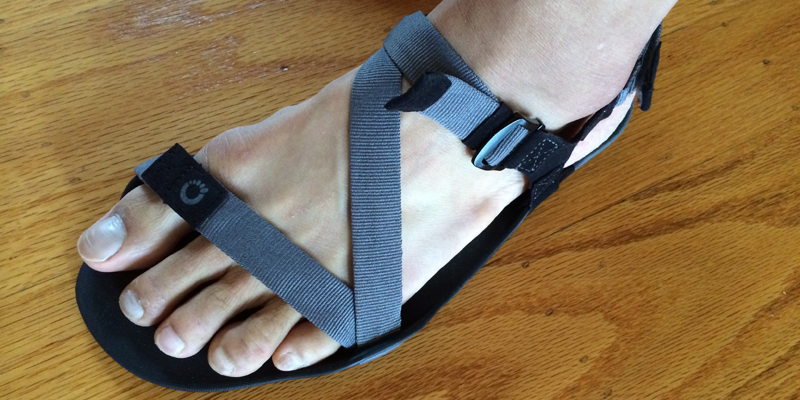 Both men's and women's Amuri Z-Trek comes in Coal Black with Charcoal webbing and Mocha Earth with Coffee Bean webbing. For women's only colorway, there is a Slate with Hunter Green webbing whereas the men's only colorway has a Slate with Patriot Blue webbing.

The Amuri Z-Trek features an adjustable heel strap and instep to handle any foot shape. Dual-chevron tread provides great grip wherever you go. With their 5,000 mile warranty, you'll never worry about where the Amuri Z-Trek takes you!
Sizing chart
i love these sandals. I've worn the diy huaraches with amuri tech for about a year now. I love them too, but there are times (such as water activities, or extreme boulder scrambling) when the the toe post becomes uncomfortable or they don't hold my feet well enough. Also there are times when (shock! horror!) I like to wear socks with my sandals. And now I can! The z-trek are the sandals I have been waiting for. They feel incredible, and they tick all my boxes for light weight comfort. Only one gripe - the faux-suede material at the ankle feels like it could wear quickly. I use the hell out of my footwear, and I'm a bit worried that could be the first to go. Also, the faux-suede retainer loops on the main tightening strap were very inadequately stitched. One broke off in my hand when I tried to adjust its position. The other had stitching that had come loose and looked about to fall apart. I glued them both with polyurethane and they have stayed on so far, but I felt my faith in the durability of these sandals a bit shaken.

Outstanding comfort and versatility. Within first hours of receipt I had walked,run and performed a circuit training workout in them with no issues whatsoever. By the end of the day I had forgotten they were on my feet. I now can't wait to wear them each day. My only gripe would be that despite following instructions regarding foot measurement and size determination they still turned out to be a bit in the big side. However this has caused me next to no issues so can't really register as a complaint. Just ensure that you measure accurately.