Xero Shoes has just launched their hottest new model yet, the Amuri Z-Trek. Additionally, they have also made an improvement to the Cloud and Venture lacing system. Now you can get those sandals on your foot and get a perfect fit in about 10 seconds. Maybe less. And once you've done that one-time adjustment (grab both tabs and pull), you can slip them on-and-off in a second. With a new lacing system also comes new colorways for the Cloud and Venture models!

Xero Shoes Amuri Z-Trek – New Model
The Amuri Z-Trek is an all-around sport sandal – think Keen and Teva.
The Amuri Z-Trek is lightweight, super-flexible, and travel packable. Best of all, the Amuri Z-Trek is the first gender-specific model from Xero Shoes. They are not unisex like the Amuri Cloud and Amuri Venture. The women's Z-Trek is narrower and has a thinner webbing. For women with wider feet, you can get the men's model.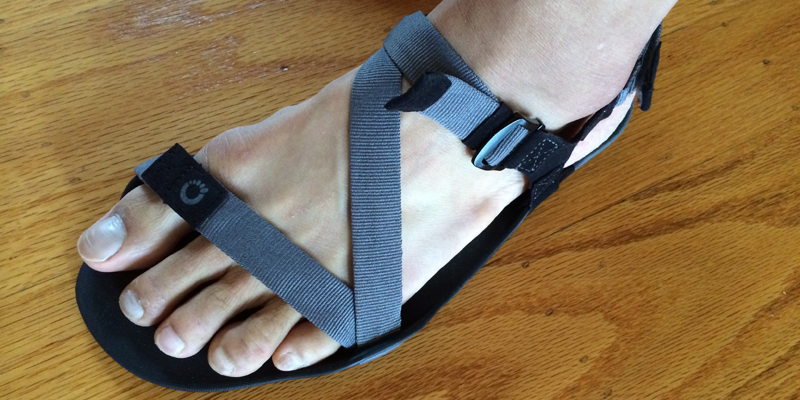 Both men's and women's Amuri Z-Trek comes in Coal Black with Charcoal webbing and Mocha Earth with Coffee Bean webbing. For women's only colorway, there is a Slate with Hunter Green webbing whereas the men's only colorway has a Slate with Patriot Blue webbing.

The Amuri Z-Trek features an adjustable heel strap and instep to handle any foot shape. Dual-chevron tread provides great grip wherever you go. With their 5,000 mile warranty, you'll never worry about where the Amuri Z-Trek takes you!
Sizing chart
Very thin sole, flexible, toe-box is wide without restricting toe-splay. Having worn "normal" shoes all my life, these will take some time to adapt to. I've worn them a few times this week and feet are feeling sore from lack of cushioning. But they tick all the boxes of a good bare-foot shoe (as mentioned above). The sole also offers good grip while being able to feel every little rock/pebble under my foot. My 23.5cm foot fits into women's US7 perfectly. Highly recommend the product and even more so, the company (Australian distributor). Most friendly and helpful. Thank you! :)

Did my first 5k run today after doing several shorter runs in my sandals in the last three weeks and couldn't be happier. These sandals have helped me to change my cadence (shorter steps) even when I am wearing my normal runners. Hamish was super helpful in sorting the right fit and size for me that made the process of online shopping so much easier in these difficult times. These are my first barefoot pair but easing into running in them has been very comfortable and no stiffness or pain anywhere.

Suggestions for improvement

This is my second pair. The Velcro wore out on the first pair within two years. I'd like to see an improvement in the design such as replaceable Velcro panels, plastic press-studs and an extra band to keep the strap secured. These sandals are more comfortable than any other I've worn and good for my feet which is why I bought them again.

Lovely shoes and Hamish was very helpful in swapping the size over

I originally purchased a size too big, but returned them for next smaller size, which was hassle free. I like the way they are So adjustable. It took me a week to adjust a little here and there to get the perfect fit. If you like to walk barefoot these sandals are for you.

Lightweight and look good

I've been running in Xeros for many years, but the truly barefoot styles are a bit too weird to wear in other situations. The Z treks are much more acceptable looking, and are still light with a barefoot feel. I got womens for the more narrow shape, and prefer a little smaller than normal sizing.

Comfortable minimalist sandals

Very happy with these sandals. I normally wear Vivobarefoot shoes but bought these for summer as a cooler option. The straps are soft and comfortable, and they don't rub my feet at all. The density of the sole could take some getting used to though, I find them a little unforgiving, but it could be that my feet are used to the extra cushioning from socks. Overall, a cooler, comfortable alternative to minimalist shoes. Postage was very fast.

Extremely comfortable and airy

Lovely shoes, very flexible and comfortable. The airy feel is perfect for summer.

I've had them now for 6 weeks or so and I am really enjoying my Xero shoes. I had initial concerns at the beginning because the special shape of my feet but the team at Xero in Australia and the US was super helpful. My feet has finished adapting to walk barefoot with the Xeros and I am super comfy in them. Next step is running and hopefully running long distance. I am definitely buying a second pair of them and slowly convincing my wife to do the same.