Xero Shoes has just launched their hottest new model yet, the Amuri Z-Trek. Additionally, they have also made an improvement to the Cloud and Venture lacing system. Now you can get those sandals on your foot and get a perfect fit in about 10 seconds. Maybe less. And once you've done that one-time adjustment (grab both tabs and pull), you can slip them on-and-off in a second. With a new lacing system also comes new colorways for the Cloud and Venture models!

Xero Shoes Amuri Z-Trek – New Model
The Amuri Z-Trek is an all-around sport sandal – think Keen and Teva.
The Amuri Z-Trek is lightweight, super-flexible, and travel packable. Best of all, the Amuri Z-Trek is the first gender-specific model from Xero Shoes. They are not unisex like the Amuri Cloud and Amuri Venture. The women's Z-Trek is narrower and has a thinner webbing. For women with wider feet, you can get the men's model.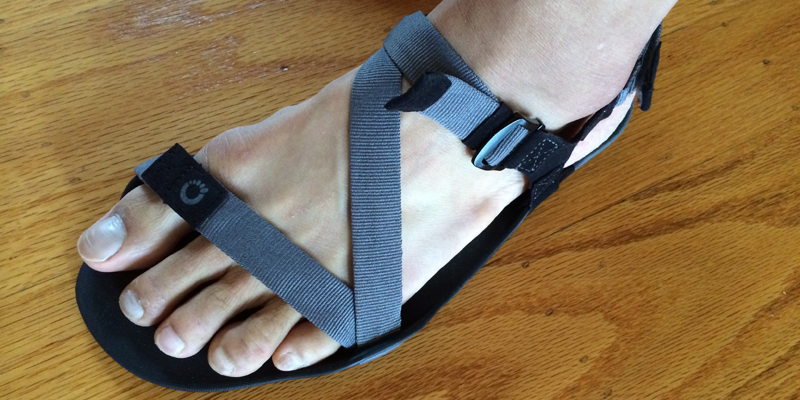 Both men's and women's Amuri Z-Trek comes in Coal Black with Charcoal webbing and Mocha Earth with Coffee Bean webbing. For women's only colorway, there is a Slate with Hunter Green webbing whereas the men's only colorway has a Slate with Patriot Blue webbing.

The Amuri Z-Trek features an adjustable heel strap and instep to handle any foot shape. Dual-chevron tread provides great grip wherever you go. With their 5,000 mile warranty, you'll never worry about where the Amuri Z-Trek takes you!
Sizing chart
I bought a pair of these for my 9 year old son - I also have a pair - and he loves them. Every time I wear mine, I get positive comments from people. They are really comfy - although non-'barefooters' may take time to adjust to them, - and they look really cool. I've had my own pair now for about 8 months, now my sons has some; my dad wants some, and as soon as my daughter's feet get big enough, she will have some.