Why are some people calling our Umara Z-Trail "The Ultimate Sandal 2.0"?
Well, last year's Z-Trek seemed to be the Ultimate Sandal… but the new Z-Trail takes it a step further. It gives you an unparalleled combination of:
Protection
Comfort
Light Weight
Flexibility
Durability
Versatility
and Affordability
What can you do in your Z-Trail sandals? Practically anything!
At then end of a day of hiking, pull off your heavy, stiff, smelly boots and slip into the freedom, comfort, and flexibility of the Z-Trail… they're so light you'll barely notice them on your feet (and will barely tell they were in your bag!).
Pull 'em out when you need to cross a stream — they're water resistant Okay, if you're using them as a camp shoe, be warned: You may find that you can use them to hike INSTEAD of your boots! Talk about saving weight… send your boots home.
Enjoy a run, on trails or roads, with just the right amount of protection, and lightweight flexibility that'll make you feel like you're practically barefoot.
Lifting weights at Crossfit — the Zero-Drop sole is perfect for deadlifts and squats, and the light weight makes pull-ups easier, too.
Yoga class? Well, the grippy soles make the Z-Trail like having a yoga mat on your feet all the time. Do your own class anywhere you are!
Head downstream… whether your in a canoe, a kayak, a raft, or on a paddleboard, the Z-Trail hold securely and comfortably on your feet. But if you decide to slip 'em off, don't worry, they float!
Take a walk — anywhere you like, from a mountain trail to an urban jungle. The comfort of the Z-Trail will surprise you.
#FeelRealFun — do whatever you like in your Z-Trail. With our 5,000 mile warranty, they can handle it.
What makes the Z-Trail special is the 3-layer FeelLite™ sole.
The bottom has our FeelTrue® rubber for great grip and abrasion resistance.
The middle layer of TrailFoam™ provides an incredible amount of force absorption and protection.
Then, the top BareFoam™ layer adds a perfect amount of comfort.
And the FeelLite™ sole still maintains enough flexibility to allow for natural movement and just-right ground-feel.
What's the difference between the Z-Trek and Z-Trail?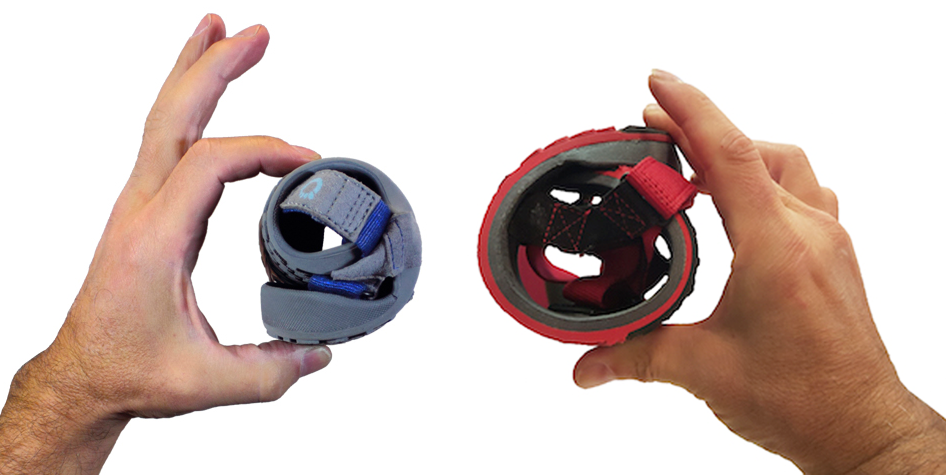 That's the Z-Trek on the left, and the Z-Trail on the right. You can see that the Z-Trail is crazy flexible, but not quite as much as the Z-Trek.
I like to think that the Z-Trail is about protection and comfort first, and the Z-Trek is about connection first.
If I've been wearing my Z-Trails around for a while, enjoying the comfort, when I then put on the Z-Trek, I think, "Oh, right, I can FEEL things again!" So I go back and forth between them, depending on how much I want to feel.
Let's talk about weight! This is maybe the best part.
The Z-Trail is about 20% lighter than the Z-Trek. But that's nothing. Let's compare the Z-Trail to a traditional sport sandal:
The reviews for the Z-Trail have been AMAZING. Pretty much everyone says that they're the best sandal they've worn.
Check out these reviews (and then click the REVIEWS tab, above to see more!):
More reasons you'll love your Z-Trail sandals:
Super-comfortable tubular webbing — no hard edges.
Adjustable Z-pattern — get the right tension across your foot, over your foot, and behind your heel.
Three color combinations.
10mm (~3/8″) FeelLite™ outsole protects you from unpleasant surfaces while still providing great "ground-feel".
Elegant contour surrounds your foot, but doesn't add unnecessary support.
Super light weight — a Men's size 9 sandal averages 5.4 ounces each.
"Zero-Drop" — your heel isn't elevated; your feet are anatomically correct.
Rust-proof nylon hardware.
100% Vegan (like all our products).
Ready to wear — the lacing is already done for you. Just slide in your foot and go.
Heel cup — keeps your heel in place, helps keep out debris.
5,000 mile warranty! Wear out your Z-Trail soles in under 5,000 miles and we'll replace them for a nominal cost ( details here).
CARING for your Z-Trail
Because of the TrailFoam™ in the Z-Trail, these need a bit of extra attention. Do not leave Z-Trail in hot cars or exposed to intense direct sun. This could cause the TrailFoam™ to deform and is not covered by our warranty.
Get the right size for your Umara Z-Trail
Sandals don't fit the same way as shoes, or other sandals. Just because you wear, say, a size 10 Nike Free, that doesn't mean you'll wear a size 10 Umara Z-Trail (and, I'm willing to bet you have other shoes that are 9.5 or 10.5… so are you really a 10
?)
By following the instructions below, you'll get the correct fit for your Umara sandals.
NOTE: Please follow these instructions to get the right fit
SPECIAL NOTE for Z-Trek owners: You MAY be a different size in the Z-Trail than the Z-Trek. The Z-Treks ran a TINY bit longer than true size. The Z-Trails are typically about 4mm shorter.
3 Simple Steps to the Correct Fit
1) Measure your foot
Place a piece of paper against a wall (if you have VERY large feet, use a piece of newspaper.
Place your foot on the paper, with your heel against the wall.
Make a mark on the paper at the furthest point away from the wall… this will either be just in front of your big toe or second toe.
Take a ruler and measure from the edge of the paper to the mark you made.
Here's a video showing the process
2. Check your measurement against the chart, below
This will give you a good idea of your size… but PLEASE follow the next step whenever possible.
3. Verify the correct fit by printing the size template and comparing it to your foot
If your foot is much narrower than the outline in the templates, try a " Women's Z-Trail."
If you seem to be "between" sizes, we recommend choosing the LARGER size in the Z-Trail
Note: Check your Printer or Browser settings to make sure you print the templates at Actual Size or 100% Scale. Verify by using a ruler to compare to the scale marking on the template.
Here's a video showing how to use the Template:
How to adjust your Umara Z-Trail for a perfect fit
Follow these simple video instructions to get the "just right" tension. This video is showing the Z-Trek, that uses a similar webbing system. But the Z-Trail hardware doesn't have the "hook."
We want to make sure you get the correct size and enjoy your Xero Shoes. If you have any questions, call us at 303.447.3100 or email us
Get your Z-Trail sandals today. We can't wait to hear where they take you.
I've been wearing Z-Trail's for about 4 years now, for everything from long runs, hiking, and walking around town. They have a thick enough sole for all day comfort, especially during demanding activities, and the straps are positioned well to keep them on tight without being restrictive.

Cannot speak highly enough of this company! I brought a pair of these sandals for my husband after owning a pair myself & loving them. Unfortunately they broke within two the warranty period & a replacement pair were sent out immediately. Great servi

Favourite shoes hands down !

True to size unlike some other brands, solid construction, light weight and comfortable. Have yet to try them on a trail but they've been great for every day wear down the street. Absolutely love them. Highly recommended.

Quite simply the best "shoe" I have ever worn

What a piece of equipment. Exceptionally comfortable, the fit is perfect and the shoes give the barefoot feeling with a very substantial protection from foot-unfriendly surfaces. Versatile, light and beautiful. Slightly harder to get on that the amuri cloud but the fit is better and sole is slightly thicker for trail surfaces.

First impressions very good and very comfortable and they are fun to wear. The strap colour on the Santa-fe is different on each side and as they cross up the foot they flip and appear different to the picture. The test of time will be of the straps where they connect pull from the sole, sadly I didn't realise the shoe only has a 6 month warranty and I'm assuming this won't be covered by the 5000 mile warranty.

May never wear sneakers again

I wasn't sure about buying these after I saw a YouTube video that showed the front straps tightening when you squat. I ended up emailing Xero to ask about it, and they said the problem was with an older design and has been resolved. The printout size guide was great, and I got the right size first go. I've been running and working out in them for a few weeks now and I'm loving it. The fit and straps are so comfortable, and I love the flexibility of the sole. Note - I wear low cut (no show) socks to keep the gym staff happy.

Good protection from rocks

My Z Treks did not last on the rugged terrain I run. The Z-Trails look like they may be more robust. Time will tell.

I just completed a 25 day hike and had my new Z Trail as my camp shoes. They were a welcome friend at the end of the day. I would slip them on and the relief from my heavy pack would start. I really enjoyed the lightness and freedom the Z Trail gave me as I could explore the area around the camp base with confidence. Also very useful in towns as an all around sandel.

Tested them at Wilsons prom Nat park. southern circuit . 6 straight hours of beach climbs and descents with full hiking backpack tent etc. Plus another beach section later. No blisters or rubbing. note, you set and forget the instep strap and put them on and off via the rear heal velcro strap.