"Best shoes I have ever worn. I actually get excited about putting them on each day." – Douglas M.
HFS II – A New Take On Our Most Popular Running Shoe
An evolution of our best selling road running shoe, the HFS II is even more comfortable, and more stylish.
While we call it a road runner, we know you'll do much more in it and can't wait to see the pics of where it takes you and what you do.
Light, Grippier, and Comfier
Like the original HFS, the HFS II is super lightweight (8.3 oz, M9) so you'll feel like you're flying down the road. And with a new tire tread-inspired outsole, you'll feel secure even if you go off road.
HFS II is so comfy, you might forget to take them off at the end of your run – we've even had people go to bed still wearing their shoes because they forgot they had them on!
The HFS II sole looks thick, but it's an illusion.
We've added a thin BareFoam™ layer for extra protection and wrapped it, cup-like, around the upper giving the HFS II a more familiar-looking profile.
Like all Xero Shoes, the HFS II has a 5,000 mile sole warranty to outlast typical running shoes that are supposed to be replaced after 200-500 miles.
Well, it could be for the "Highly Flexible Sole" that lets your foot move naturally, or the face you'll make when you put it on — "Happy Face Shoe" — or the way you run in it with a "High Frequency Stride", or what you exclaim when you put it on and feel the comfort and light weight: "Holy ___ ___!"
There are as many possible answers as there are things you'll do in the HFS II.
WE MAKE PERFORMANCE SHOES SO COMFORTABLE, YOU'LL FORGET THEY'RE EVEN ON.
If your feet don't feel as good at the end of the day as they did in the beginning, you haven't tried the HFS II.
Life-changing comfort and superior performance come from letting your feet do what's natural – bend, move, flex and feel.
All Xero Shoes feature a wider, foot-shaped toe box that lets your toes spread and relax, a non-elevated "zero drop" heel for proper posture, low-to-the-ground design for perfect balance and agility, and a flexible sole that gives you "just right" protection so you can bend, move, flex, and Live Life Feet First!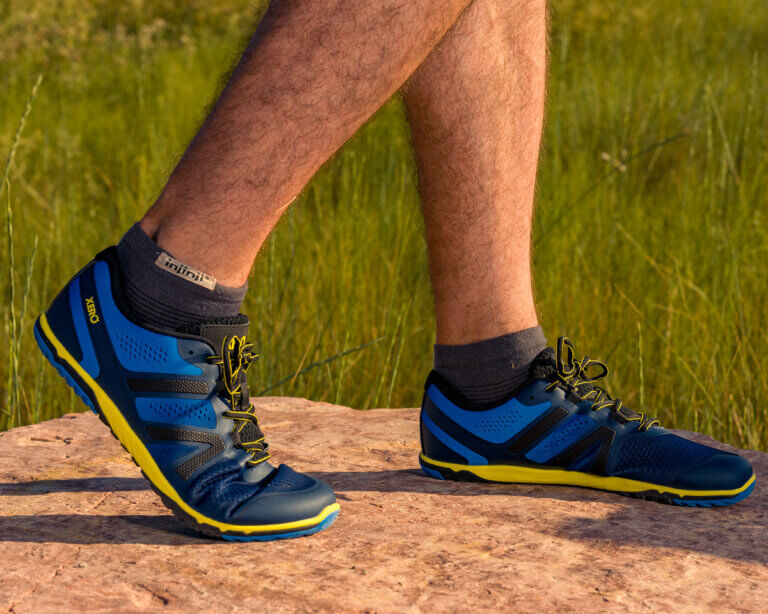 HFS - Lightweight Road Runner

Extremely comfortable. Like a second skin.

HFS II - Lightweight Road Runner

Love these shoes. A lot firmer than my previous road shoes, but very comfortable. Have been running in barefoot style shoes for a while, so only big adjustment was getting used the harder feel of the ground. Also been wearing these when running on trails. Reminiscent of old school racing flats. Bought usual size 9 1/2, but had to upsize to 10. Very quick swap over.

The original Xero HFS shoes are my favorite shoes of all time. The HFS2's feel like an entirely different shoe. Way thicker sole and way worse feel. they're very normal feeling shoes. Almost like a barefoot transition shoe. I know they say the foam is a "fake out just to make them look better" but it certainly feels like the foam is real and just has a horrible feel overall. Wish I could return them tbh. I have bought over 10 pairs of the original HFS shoes for myself and for friends because I want to share how great of a feel they are… sadly I feel the opposite about the HFS2s. They could be good if you're looking for a transition shoe.

Will be using this for everyday wear. Love the ASPHALT / ALLOY colourway. Has everything I need for a barefoot shoe.