Sleek styling. Flexible FeelTrue® sole for natural power transfer. Lightweight construction (7.6 oz. M9) for efficiency and speed. Superior comfort with an anatomically-correct wide toe box, adjustable instep straps, and non-elevated "Xero-drop" sole. Low-to-the-ground (9mm stack height) for balance and agility. Prio — the wheels for your engine.
Get the right size for your Prio
Shoe sizing, especially online, is not a perfect process. That's why we have a free exchange policy.
Because the foot is three-dimensional, any two-dimensional measuring tool, such as a ruler or Brannock device®, can only approximate your true shoe size. Manufacturers model their shoes on different foot shapes which is why you might be an 8 in one brand and a 9 in another.
The Prio fits "true-to-size" or a TINY bit small. So you'll probably be okay selecting your "usual" shoe size.
NOTE: The width of the Prio is approximately EE width.
NOTE for Hana owners — The Prio is a bit wider than the Hana and, with the multi-part upper (compared to the Hana's single-piece upper), it's more accommodating for wider feet. Also, if you already own a pair of Hana, we suggest going up 1/2 size from those; some people like a bit more room for a performance shoe.

Sizing for a shoe is different than a sandal, so if you own one of our sandals, that doesn't mean you'll pick the same size in the Prio.
After following these instructions, if you think you're "between sizes," go up a 1/2 size.
2 Simple Steps to the Correct Fit
1) Measure your foot
Place a piece of paper against a wall (if you have VERY large feet, use a piece of newspaper.
If you plan to wear socks with your Prio, put those on
Place your foot on the paper, with your heel against the wall.
Make a mark on the paper at the furthest point away from the wall… this will either be just in front of your big toe or second toe
Take a ruler and measure from the edge of the paper to the mark you made.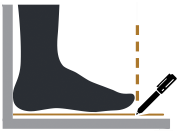 Here's a video showing the process:
2. Check your measurement against the chart, below
Women's Prio Sizing Guide
Foot Length
inches
Foot Length
millimeters
Women's Size(US)
Women's Size(UK)
Up to 8 1/2″
Up to 218mm
5
4.5
Up to 8 5/8″
Up to 222mm
5.5
5
Up to 8 3/4″
Up to 226mm
6
5.5
Up to 8 7/8″
Up to 230mm
6.5
6
Up to 9 1/8″
Up to 234mm
7
6.5
Up to 9 1/4″
Up to 238mm
7.5
7
Up to 9 3/8″
Up to 242mm
8
7.5
Up to 9 5/8″
Up to 246mm
8.5
8
Up to 9 3/4″
Up to 250mm
9
8.5
Up to 9 7/8″
Up to 254mm
9.5
9
Up to 10 1/8″
Up to 258mm
10
9.5
Up to 10 1/4″
Up to 262mm
10.5
10
Up to 10 3/8″
Up to 266m
11
10.5
We want to make sure you get the correct size and enjoy your Xero Shoes. If you have any questions, call us at + 61 414 265 398 or email us
I feel more nuance of movement in my body when walking in these shoes

I bought these shoes for walking. I love that my toes feel completely free when walking and sitting. I feel more nuance of movement in my body when walking in these shoes. The shoes are incredibly light weight. They have a very clever lacing system which enables you to still get a perfect fit with narrow feet.

Before purchasing I called Xeros twice with questions, so that I could be confident about both the size and style I was purchasing. Hamish was extremely helpful and patient on both occasions, and we got the size right first time! Five stars for both product and service.

I plan to purchase more Xeros shoes, and from now on will only be wearing non-Xeros 'heeled' shoes where absolutely necessary.


Women's Ipari Prio review

Everything you need in a running shoe. Thin, flat, flexible with a wide toe box. I love the density of the rubber on the sole, some minimal shoes have a thin plastic type sole. This is the Goldilocks sole, not too hard, not too soft, just right! The zero drop sole is essential for running with good technique. Heidi, podiatrist.

These were my first pair of Xero shoes. I became aware of barefoot shoes after listening to a podcast about Vivobarefoot shoes. So I ordered a pair, but wasn't completely happy with them. Then I read a review where Xero shoes were mentioned as being preferable to most other barefoot shoes - and they are. I haven't looked back. Now I wouldn't wear anything else.
At first I wasn't sure if my toes were too close to the end of the Prio, but it only took a couple of wears for them to soften up and my toes feel fine now. I absolutely love the wide toe box (wider than Vivo) and the way the shoe doesn't have to be tight around the toe or middle of the foot to stay put, and that the ankle can be as tight as you like it. They feel secure and I feel completely in control of my foot.
I wore them around the house for an hour or so each day for a week before venturing out on a long walk, although I don't think that is entirely necessary.
They are very comfortable and walking in them is easy. I'm still striking my heel down on occasion - at which point my heels hurt, but each day I'm doing it less and planting the middle of my foot down and shortening my stride.
I can't imagine wearing anything else now.
I just wish there were more styles to chose from on the Australian website!
I've also just started wearing Injinji toe socks, but would have liked to have been able to purchased from the Australian website as well.
Overall a very happy experience!

I am so amazed at how comfortable these are! This is the first barefoot shoe I have ever owned, I 'm so glad I chose these as my first pair! They are now my go to shoe and I can't wait to buy them in another colour!

I have been wearing barefoot-style running shoes for the last few years, although they have become increasingly hard to find. The Prios are my first pair of constructed Xero shoes (I do have a pair of the DIY sandals that I tried to cut to better suit my feet with limited success). I have only run in the Prios twice so far, but there's no need to wear them in. I think they are more comfortable than my previous minimalist shoes, striking the right balance between groundfeel and protection. Landing on rocks awkwardly hurts a little but that is a good thing - it reminds me to pay attention to foot placement. They are wider in the toe box, but the design allows a customised fit over the forefoot so my feet don't slide around. I love the toe box, and plan to get some more injinji socks to really take advantage of toe freedom. I haven't tested the Prios yet on more rugged trails but expect them to perform well. They seem to be constructed from more robust materials than my previous shoes which had to be retired because the uppers died in the Wonderlands run last year. Looking forward to testing that 5000 mile guarantee on the sole!

Only wish I'd bought these earlier. I was fed up with my foot almost rolling in my popular brand shoes due to the high soles. These are absolute heaven. I don't want to take them off. I will never purchase another generic running shoe again. Xero all the way!!

I love these shoes just wish they came in more styles for every day "on trend" wear. There's no gross feeling of your toes squishing together and they're so comfortable!