Sleek styling. Flexible FeelTrue® sole for natural power transfer. Lightweight construction (7.6 oz. M9) for efficiency and speed. Superior comfort with an anatomically-correct wide toe box, adjustable instep straps, and non-elevated "Xero-drop" sole. Low-to-the-ground (9mm stack height) for balance and agility. Prio — the wheels for your engine.
Get the right size for your Prio
Shoe sizing, especially online, is not a perfect process. That's why we have a free exchange policy.
Because the foot is three-dimensional, any two-dimensional measuring tool, such as a ruler or Brannock device®, can only approximate your true shoe size. Manufacturers model their shoes on different foot shapes which is why you might be an 8 in one brand and a 9 in another.
The Prio fits "true-to-size" or a TINY bit small. So you'll probably be okay selecting your "usual" shoe size.
NOTE: The width of the Prio is approximately EE width.
NOTE for Hana owners — The Prio is a bit wider than the Hana and, with the multi-part upper (compared to the Hana's single-piece upper), it's more accommodating for wider feet. Also, if you already own a pair of Hana, we suggest going up 1/2 size from those; some people like a bit more room for a performance shoe.

Sizing for a shoe is different than a sandal, so if you own one of our sandals, that doesn't mean you'll pick the same size in the Prio.
After following these instructions, if you think you're "between sizes," go up a 1/2 size.
2 Simple Steps to the Correct Fit
1) Measure your foot
Place a piece of paper against a wall (if you have VERY large feet, use a piece of newspaper.
If you plan to wear socks with your Prio, put those on
Place your foot on the paper, with your heel against the wall.
Make a mark on the paper at the furthest point away from the wall… this will either be just in front of your big toe or second toe
Take a ruler and measure from the edge of the paper to the mark you made.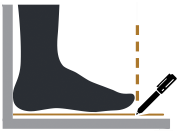 Here's a video showing the process:
2. Check your measurement against the chart, below
Men's Prio Sizing Guide
Foot Length
inches
Foot Length
millimeters
Men's Size(US)
Men's Size(UK)
Up to 9 3/8″
Up to 242mm
6.5
6
Up to 9 1/2″
Up to 246mm
7
6.5
Up to 9 3/4″
Up to 250mm
7.5
7
Up to 9 7/8″
Up to 254mm
8
7.5
Up to 10 1/8″
Up to 258mm
8.5
8
Up to 10 1/4″
Up to 262mm
9
8.5
Up to 10 3/8″
Up to 266mm
9.5
9
Up to 10 5/8″
Up to 270mm
10
9.5
Up to 10 3/4″
Up to 274mm
10.5
10
Up to 10 7/8″
Up to 278mm
11
10.5
Up to 11 1/8″
Up to 282mm
11.5
11
Up to 11 1/4″
Up to 286mm
12
11.5
Up to 11 1/2″
Up to 290mm
13
12.5
We want to make sure you get the correct size and enjoy your Xero Shoes. If you have any questions, call us at + 61 414 265 398 or email us
Very comfortable lightweight running shoe. I have only been for two runs in them but so far so good. I initially ordered the largest women's size but I had to send them back as too tight on one foot. I had to get the equivalent of the next size up in the mens, which was fine but they seem a bit wider on my foot than the women's were. It's unfortunate the women's don't go up to US size 12 considering they are small fitting shoe. Other than that I am very happy with them.

So glad they come in Black

I work in a retail environment that requires all black shoes, when I saw that the prios come in black i jumped at the chance to try them out. They are super comfortable and really give your feet a solid connection to the ground. I find im more agile on my feet and after the first few days of wearing them i could feel my toes starting to reawaken (i used to do alot of VFF walking and running in the past, though over the past few years ive spent most of my fitness tike rock climbing, needless to say that the climbing shoes have cramped my toes). I easily walk over 15000 steps a day in them and so far i havent had any issues (written after one month of use)

They are sized a little on the smaller side. I am normally a EU 43 though i had to go to a EU45

All in i am very happy with the shoes.

Great closed in true minimal runner!

Comfortable out of the box with good build quality. I'm a size 10 in everything else but in this an 11 is a snug fit so sizing runs a bit small. overall great to run in and provides the protection you may need on the tough trails. This shoe is also an excellent road runner being light and stable. Highly recommended, Fast postage and Great customer service

Amazing Product For My Feet

I purchased the men's Prio size 8.5 for my wide feet because I grew up as a kid wearing things and sometimes no shoes at all, it has been difficult for me to get correct fitting shoes all my life and I decided to give these minimal bare foot style shoes a try. Well, I sure am glad that I did, from day one when I tried them on firstly with no socks and went to work where I stand a lot and also go for 40 minute lunch time power walks, these shoes have not pinched my feet or toes anywhere nor have I had any sign of a blister, because my toes can now spread out and the inner sole has molded to my feet they feel so comfortable and allow my feet to breath, I also tried them with socks which also works very well but I much prefer the bare foot feel, I highly recommend these shoes to everyone to give them a try!

Had to find a replacement for bare x lite

It's a shoe that actually is the shape of a foot! Who woulda thought. Gone for a few runs and the sole appears very durable. I can run low 4s or high 3s if I'm fit. I like running up to 12ks after that I know I'm going to suffer. The feel is not as good as super minimal shoes but then these actually have grip on concrete, damp grass and dirt with leaves and gumnuts.
You do need to upsize....quite a bit. Go off euro size. Stepping out we're awesome when I ordered two (half) sizes too small.
I will follow up once they have some more miles in them

I've been having such an enjoyable experience while running with my Ipari Prio. It feels extremely comfortable, a lightweight running shoe with a soft foot strike. I've been running with different minimalist running shoes for the past seven years and undoubtedly the Ipari Prio is on the top of my list.

My 5th pair of zeros and these Ipari Prios are great

The most comfortable shoe ever

The first thing I noticed about these shoes is that they are completely unique from any other. They are a great fit and comfort second to none. I wholeheartedly recommend!

The most comfortable shoe ever

The first thing I noticed about these shoes is that they are completely unique from any other. They are a great fit and comfort second to none. I wholeheartedly recommend!