Sleek styling. Flexible FeelTrue® sole for natural power transfer. Lightweight construction (7.6 oz. M9) for efficiency and speed. Superior comfort with an anatomically-correct wide toe box, adjustable instep straps, and non-elevated "Xero-drop" sole. Low-to-the-ground (9mm stack height) for balance and agility. Prio — the wheels for your engine.
Get the right size for your Prio
Shoe sizing, especially online, is not a perfect process. That's why we have a free exchange policy.
Because the foot is three-dimensional, any two-dimensional measuring tool, such as a ruler or Brannock device®, can only approximate your true shoe size. Manufacturers model their shoes on different foot shapes which is why you might be an 8 in one brand and a 9 in another.
The Prio fits "true-to-size" or a TINY bit small. So you'll probably be okay selecting your "usual" shoe size.
NOTE: The width of the Prio is approximately EE width.
NOTE for Hana owners — The Prio is a bit wider than the Hana and, with the multi-part upper (compared to the Hana's single-piece upper), it's more accommodating for wider feet. Also, if you already own a pair of Hana, we suggest going up 1/2 size from those; some people like a bit more room for a performance shoe.

Sizing for a shoe is different than a sandal, so if you own one of our sandals, that doesn't mean you'll pick the same size in the Prio.
After following these instructions, if you think you're "between sizes," go up a 1/2 size.
2 Simple Steps to the Correct Fit
1) Measure your foot
Place a piece of paper against a wall (if you have VERY large feet, use a piece of newspaper.
If you plan to wear socks with your Prio, put those on
Place your foot on the paper, with your heel against the wall.
Make a mark on the paper at the furthest point away from the wall… this will either be just in front of your big toe or second toe
Take a ruler and measure from the edge of the paper to the mark you made.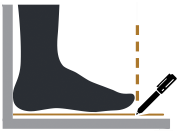 Here's a video showing the process:
2. Check your measurement against the chart, below
Men's Prio Sizing Guide
Foot Length
inches
Foot Length
millimeters
Men's Size(US)
Men's Size(UK)
Up to 9 3/8″
Up to 242mm
6.5
6
Up to 9 1/2″
Up to 246mm
7
6.5
Up to 9 3/4″
Up to 250mm
7.5
7
Up to 9 7/8″
Up to 254mm
8
7.5
Up to 10 1/8″
Up to 258mm
8.5
8
Up to 10 1/4″
Up to 262mm
9
8.5
Up to 10 3/8″
Up to 266mm
9.5
9
Up to 10 5/8″
Up to 270mm
10
9.5
Up to 10 3/4″
Up to 274mm
10.5
10
Up to 10 7/8″
Up to 278mm
11
10.5
Up to 11 1/8″
Up to 282mm
11.5
11
Up to 11 1/4″
Up to 286mm
12
11.5
Up to 11 1/2″
Up to 290mm
13
12.5
We want to make sure you get the correct size and enjoy your Xero Shoes. If you have any questions, call us at + 61 414 265 398 or email us
Love these shoes - only had them a short while and yes transitioning to barefoot running shoes is taking time, but following Xero's advice I am loving them. They feel like they are very well made. Will be looking at trail shoes next !! :-)

Awesome, just bloody awesome shoes. Thanks heaps Xeros.

These are the best shoes iv been able to find for my very wide flat feet great for every day use and the gym

These shoes are fantastic for everyday wear and they are durable. I have also used them for Trekking through the Aussie bush and although they were great most of the time, I they did lack a bit of grip when the going got tough but to be fair they weren't designed for that as there are plenty of others shoes in the range that cater to this. All round I love them for everyday use and will buy again.

Shoes are awesome and super comfy with the perfect amount of cushion under foot for running! Glad I ordered the next size up Would love to see you guys make a trail version of this shoe

A little unusual to get used to, zero drop etc. but I'm really liking them. The fit is wide and therefore excellent for me. The laces tend to twist up which is more aesthetically annoying than anything. Overall very pleased.

Good shoes, good policies

My size 13's arrived yesterday, after I had received a pair of size 12's and realized that they were a poor fit. Xeros was happy to swap them out, and the new pair is a great fit. They're comfortable enough for my first pair of barefoot shoes and I'm keen to see how they go in terms of longevity.

Very happy with these shoes. Great feel & comfortable to wear.

Even more comfortable than the Denver

I loved my Denvor shoes for the weight and comfort. But given my feet are very wide, I had to move to a more forgiving fabric to compensate for my foot shape. Just when I thought a shoe couldn't get more comfortable, this one was even better! And looks super causal. Great shoe!