Product Description
"It's got a grippy sole that makes me feel extremely comfortable walking around
the river and getting into the Kayak" – Katherine D.
NEW Women's Minimalist Water, Trail Running, Swim/Run, OCR Shoe for 2021- Aqua X Sport by Xero Shoes
INTRODUCING THE AQUA X SPORT FROM XERO SHOES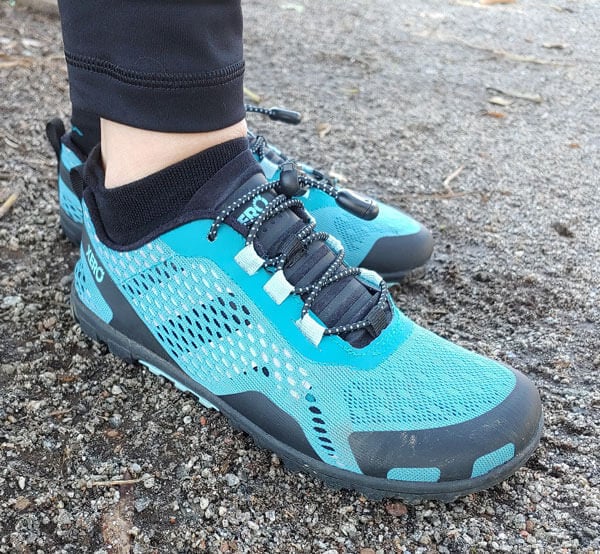 STAYS LIGHT – WET OR DRY
The Aqua X Sport is designed with a breathable mesh upper with a quick-dry lining, non-absorbent tongue, and toe guard drain holes that help you quickly shed water, so it's barely any heavier wet than dry. A women's size 7 is just 5.8oz!
A FAST, FINE-TUNED FIT
Get a comfortable, secured fit with the included speed laces.
PROTECTION THAT FEELS JUST RIGHT.
The Aqua X Sport uses the same flexible 5.5mm FeelTrue® sole and 3.5mm dual chevron lugs as the Mesa Trail, providing all-terrain traction and just the right amount of protection and ground feedback for responsive, natural movement through all the elements.
WE MAKE SHOES SO COMFORTABLE, YOU'LL FORGET THEY'RE EVEN ON.
If your feet don't feel as good at the end of the day as they did in the beginning, you haven't tried the Aqua X Sport.
Life-changing comfort and superior performance come from letting your feet do what's natural – bend, move, flex and feel.
All Xero Shoes feature a wide toe box that let your toes spread and relax, a non-elevated "zero drop" heel for proper posture, low-to-the-ground design for perfect balance and agility, and a flexible sole that gives you "just right" protection so you can Feel the World® as you move in total comfort.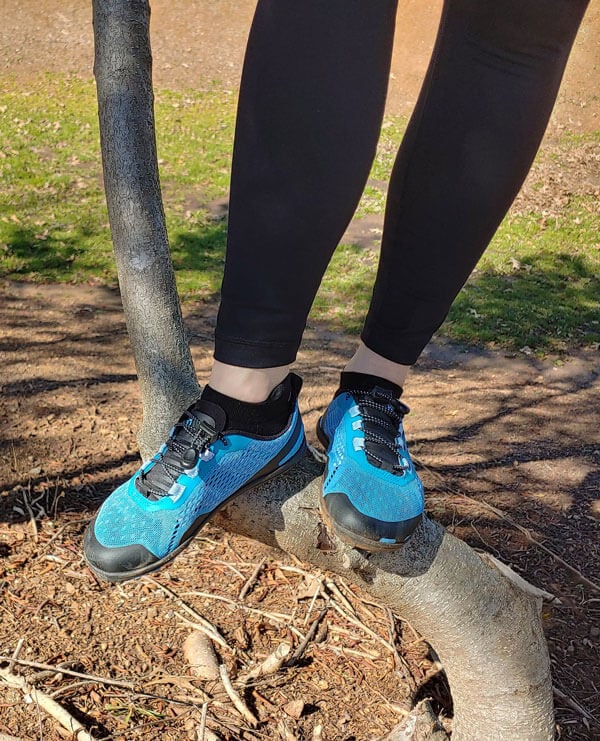 AQUA X SPORT MEN'S SIZE GUIDE
We recommend ordering your usual size.
FREE EXCHANGES: Most people find our size recommendation gives them a proper fit, but just in case, we have a free exchange program for all US orders.
*If you normally buy a Euro, UK or JP Size, check out the handy conversion chart below.
NOTE: The Aqua X Sport has a wider toe box than conventional men's shoes, if your feet are particularly narrow, consider the Women's Aqua X Sport. Just make sure to adjust the size by 1.5 (for example, a men's 8 is the same length as a women's 9.5).
Women's Sizing Chart:
| US Sizes | EU Sizes | UK Sizes | JP Sizes |
| --- | --- | --- | --- |
| 5 | 35.5 | 3.5 | 22 |
| 5.5 | 36 | 4 | 22.5 |
| 6 | 36.5 | 4.5 | 23 |
| 6.5 | 37 | 5 | 23.5 |
| 7 | 37.5 | 5.5 | 24 |
| 7.5 | 38 | 6 | 24.5 |
| 8 | 38.5 | 6.5 | 25 |
| 8.5 | 39 | 7 | 25.5 |
| 9 | 39.5 | 7.5 | 26 |
| 9.5 | 40 | 8 | 26.5 |
| 10 | 40.5 | 8.5 | 27 |
| 10.5 | 41 | 9 | 27.5 |
| 11 | 41.5 | 9.5 | 28 |