Product Description
"The Aqua X Sport might just be the best model from Xero Shoes yet!" – Jarvis C.
NEW Men's Minimalist Water, Trail Running, Swim/Run OCR Shoe for 2021- Aqua X Sport by Xero Shoes
INTRODUCING THE AQUA X SPORT FROM XERO SHOES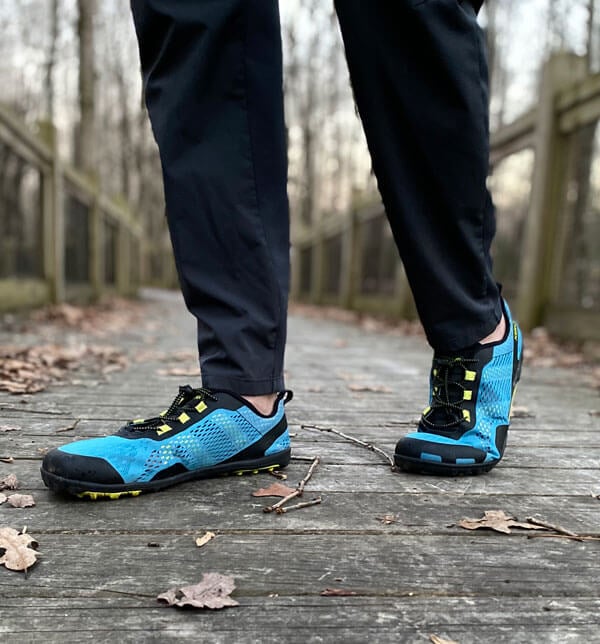 STAYS LIGHT – WET OR DRY
At just 7.2 ounces each for a men's size 9, the Aqua X Sport is designed with a breathable mesh upper with a quick-dry lining, non-absorbent tongue, and toe guard drain holes that help you quickly shed water, so it's barely any heavier wet than dry.
A FAST, FINE-TUNED FIT.
Get a comfortable, secured fit with the included speed laces.
PROTECTION THAT FEELS JUST RIGHT.
The Aqua X Sport uses the same flexible 5.5mm FeelTrue® sole and 3.5mm dual chevron lugs as the Mesa Trail, providing all-terrain traction and just the right amount of protection and ground feedback for responsive, natural movement through all the elements.
WE MAKE SHOES SO COMFORTABLE, YOU'LL FORGET THEY'RE EVEN ON.
If your feet don't feel as good at the end of the day as they did in the beginning, you haven't tried the Aqua X Sport.
Life-changing comfort and superior performance come from letting your feet do what's natural – bend, move, flex and feel.
All Xero Shoes feature a wide toe box that let your toes spread and relax, a non-elevated "zero drop" heel for proper posture, low-to-the-ground design for perfect balance and agility, and a flexible sole that gives you "just right" protection so you can Feel the World® as you move in total comfort.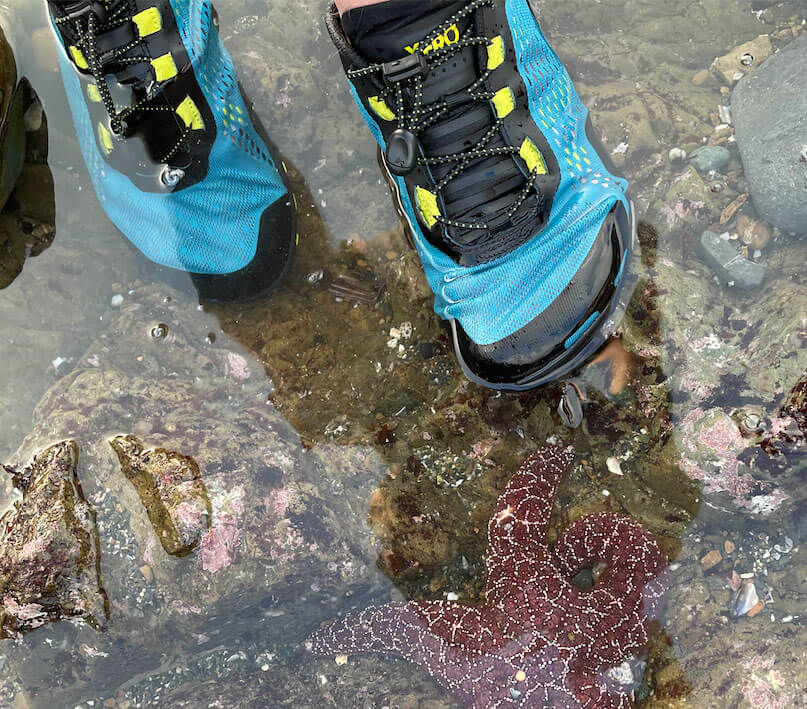 AQUA X SPORT MEN'S SIZE GUIDE
We recommend ordering your usual size.
FREE EXCHANGES: Most people find our size recommendation gives them a proper fit, but just in case, we have a free exchange program for all US orders.
*If you normally buy a Euro, UK or JP Size, check out the handy conversion chart below.
NOTE: The Aqua X Sport has a wider toe box than conventional men's shoes, if your feet are particularly narrow, consider the Women's Aqua X Sport. Just make sure to adjust the size by 1.5 (for example, a men's 8 is the same length as a women's 9.5).
Men's Sizing Chart:
| US Sizes | EU Sizes | UK Sizes | JP Sizes |
| --- | --- | --- | --- |
| 6.5 | 39.5 | 5.5 | 24.5 |
| 7 | 40 | 6 | 25 |
| 7.5 | 40.5 | 6.5 | 25.5 |
| 8 | 41 | 7 | 26 |
| 8.5 | 41.5 | 7.5 | 26.5 |
| 9 | 42 | 8 | 27 |
| 9.5 | 42.5 | 8.5 | 27.5 |
| 10 | 43 | 9 | 28 |
| 10.5 | 43.5 | 9.5 | 28.5 |
| 11 | 44 | 10 | 29 |
| 11.5 | 44.5 | 10.5 | 29.5 |
| 12 | 45 | 11 | 30 |
| 13 | 46 | 12 | 31 |
| 14 | 47 | 13 | 32 |
| 15 | 48 | 14 | 33 |
Awesome, but it took a second go

I bought my first pair of these ands very happy with them, until, after about 100km of use, the toe guard and the side guard started delaminating. I told Xero and they just refunded my money so I could buy a new. pair, which was awesome. It was super easy and they were great to deal with. My new pair seems to be much better, so I'm assuming that first pair was just a defect. The grip on trails is outstanding and In my opinion the sole is a good thickness for most stuff. I can have fun without the fear of stepping on a rock and being in a world of pain, *cough*skinners*cough*. I've done some creek crossings in these and they seem to dry fairly quickly which is good. As with any trail shoe, don't do any road running in them, it will wear the tread out super quick. One thing is, I wish they were slightly wider. Apart from that, they are great shoes.

Comfortable shoe use at work as stand up forover 8 hours a day

great fitting shoe. I have struggled to find shoes that fit my wide foot. ESPECIALLY at the moment that I have ripped of half my big toe nail. These shoes fit and apply no pressure to my toe and are so light to wear.

Excellent. Superb. Perfect.

This is the footwear you need. The only reason I knew they were on my feet was because I couldn't stop thinking, these shoes are excellent. Great grip through the rivers. Great drainage. And great continuing through the mountains. Everything is great. Strong mesh, excellent grip, lightweight. If you want these. Don't think twice. Your feet and soul will thank you.

4.5 Stars...Would buy again, design needs one tweak

Great shoe design that grips well on any surface. I've used my Aqua X Sports running through water, both on and off roads, running tracks and trails. I've also used them in the gym for weightlifting and circuits. I would buy these shoes again, and am also going to purchase another type of Xero shoes in the next few weeks as a comparison point. Only modification on these shoes that would improve their design is the tongue...it twists very easily, and folds on itself during wear. This could probably be fixed with a slightly wider tongue, or thicker material.

Great shoe, light weight, zero drop, but feels nice and solid.

Excellent, legs and feet feeling more alive and active .Removed orthotics.

I have a pair of these and they are perfect for holidays. Last week at Toogoom near Hervey Bay I wore them for the morning walk on the road, across grass, onto the beach, across the mud flats straight through the water and up the boat ramp. Everyone else were taking shoes off and on, tiptoeing around and worrying about slipping over. Perfect for fishing, boating or puddle hopping.